"Impressions" Canadian Showpieces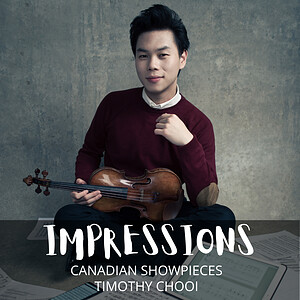 Impressions is a project of Canadian violinist Timothy Chooi and Canadian pianist Janelle Fung, as result of a collaboration that developed gradually and organically over more than two years. Chooi met Fung as a result of a last-minute replacement for a recital in Quebec. As they started to explore the music of the 20th and 21st century they discovered exciting and whimsical showpieces in the violin and piano repertoire that have never been recorded.
Both Chooi and Fung wanted to collaborate on something completely new, a venture into an uncharted musical terrain that would nonetheless preserve their individual artistry. As both artists were born and raised in Canada, they created an homage to their roots and create an album that features Canadian-only repertoire.
The title of the album – Impressions – is a reflection of how the two artists see their work together. As this was completely unchartered territory for both artists and most audiences, they created the pieces through intuition with very little evidence of how the pieces should "sound."
This project was fully funded and supported by the Canada Council for the Arts.
Timothy Chooi, violin
Janelle Fung, piano
"Impressions" of Canadian Showpieces
"Daydreams" by Adaskin"
"Danse Canadienne"by Gratton
"Chanson et Danse" by Gratton
"Vocalise" by Adaskin
"Soulmate" by Chan Ka Nin
Chooi Ventures Music Inc. 001
19 February 2018