Release of my video Csárdás / Czardas from Monti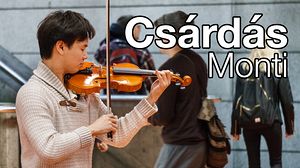 03 October 2017
I am happy to announce the release of my video Csárdás / Czardas from Monti filmed in Lionel Groulx Metro Station, Montreal, Québec (Canada) and recorded in Philadelphia.
I really enjoyed to create that story around the music and to give that impromptu concert in metro station. For me it was a good place to make that video because that piece Csárdás / Czardas I really wanted to share that classical music can be fun and engaging. I think that this piece evokes engagement from the audiences and it catches their attention no matter what they're doing.
With that video I wanted to bring the classical music experience online using Montreal as the beginning of my project due to its music friendly environment and its 375th anniversary. I hope that you will enjoy this online concert experience!
You can watch the video on my YouTube channel and listen it on Spotify or on iTunes