Top Three in the 2015 Michael Hill International Violin Competition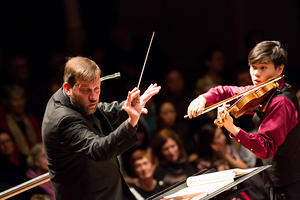 16 June 2015
Timothy Chooi performed Sibelius' Violin Concerto in D minor with the Auckland Philharmonia on June 13 as a result of making it to the top three in the 2015 Michael Hill International Violin Competition.
First Prize went to 26 year old Suyeon Kang from Australia.
Second Prize went to 26 year old Eunae Koh from South Korea.
Thrid Prize went to 21 year old Timothy Chooi from Canada.
Click here to watch the performances online:
https://www.youtube.com/watch?v=7kpeV9vqfiQ