Brothers bring $11 Million Violins to Newfoundland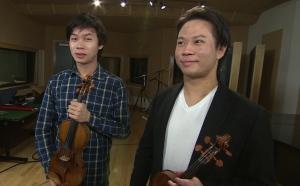 26 March 2015
Nikki & Timothy Chooi, who are from Victoria, BC, are the star performers at Friday's performance of Oh Brother! at the Arts and Culture Centre in St. John's.
Nikki & Timothy Chooi violinists
Nikki & Timothy Chooi have brought two violins with them to Newfoundland, valued at $5 million a piece. (CBC)
The concert will also feature the Newfoundland Symphony Orchestra.
What many people in the audience at Friday's concert may not realize is that the two brothers are using violins worth a total of $10 million.
"We just treat it like an arm, because you don't want to lose your arm," Nikki Chooi told The St. John's Morning Show.
"It's something that's always a part of us, and we always carry it everywhere."
A fortune of strings
Nikki, who plays a 1700 Stradivari Taft, and Timothy, who has a 1729 Guarnieri del Gesù, don't actually own the expensive instruments.
They got them through the Canada Council for the Arts Instrument Bank program. The program allows musicians to get a three-year loan of instruments beyond their means to buy themselves — but only after going through a rigorous application and audition process.
"It's a beautiful instrument, and I'm very lucky to have it," said Timothy.
"I've grown up taking really good care of whatever instrument I have, whether it's $100 or $5 million.
Oh Brother! gets underway a 8 p.m. Friday at the Arts and Culture in St. John's.