Brothers to play $5-million violins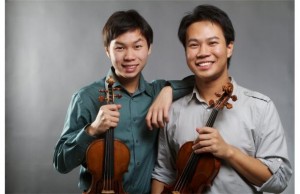 26 September 2012
A pair of Victoria brothers will play on multimilliondollar violins for the next three years, after winning a Canada Council contest.
Nikki and Timothy Chooi are among 18 classical musicians selected to receive rare instruments from the Canada Council Musical Instrument Bank for a three-year period. Crafted between 1689 and 1929, the violins, cellos, and one bow are valued at between $50,000 and $11 million.
Ranked as the top violinists in the contest following a series of live auditions and interviews, the Chooi brothers had first pick from the bank.
Nikki, 23, chose the 1700 Taft Stradivari, after playing the 1729 Guarneri del Gesù for three years following his win in the previous competition. Timothy, 18, followed in his older brother's footsteps, choosing the Guarneri del Gesù.
Both violins are valued at $5 million.
"I would have been happy with any of them, but that was my favourite - it's such a dark sound," Timothy said. He previously borrowed a violin from Curtis Institute of Music in Philadelphia, where he studies. "This one is on a different level in every way - the sound, the way it projects - everything about it is a huge step up."
Timothy said the first thing he did when he got home with the nearly 300year-old instrument was clean it.
"I couldn't stop cleaning it. I couldn't stop taking pictures of it and taking videos and looking at it near the window - I can't believe that this $5-million instrument is right beside me," he said.
The Chooi brothers were born in Victoria and studied at the Victoria Conservatory of Music. Their first performance together with their new instruments will be with the Highland Port Symphony in Chicago.
This year, Timothy also debuts with the Toronto Philharmonia, the Newfoundland Symphony, the Edmonton Symphony and the Northern Arts Centre in Yellowknife, as well as travelling to Chile as a solo artist with the Youth Orchestra of the Americas. He has won several top awards, including the 2010 Grand Prix of the 71st l'Orchestre Symphonique de Montreal's Standard Life Competition, at 16.
Nikki is a laureate of the 2012 Queen Elisabeth Violin Competition, one of the world's most prestigious music competitions, based in Brussels, Belgium. The New York Times has described his performance as "vigorous and colourful," while the Boston Globe called him "a model of taste and tonal refinement." He lives in New York, where he is pursuing a master's degree at Juilliard School of Music.
The Canada Council received 51 applications, which included recordings of the candidates playing. A peer assessment committee chose 28 finalists to compete through live auditions and interviews for the 18 musical instruments.
The musical instrument bank, created in 1985, lends and gives young Canadian musicians finestring instruments to help further their international solo or chamber music careers. The Canada Council acquires the instruments through donations and loans.
asmart@timescolonist.com