Review: The two faces of Beethoven (DSO Berlin, Linz, Austria)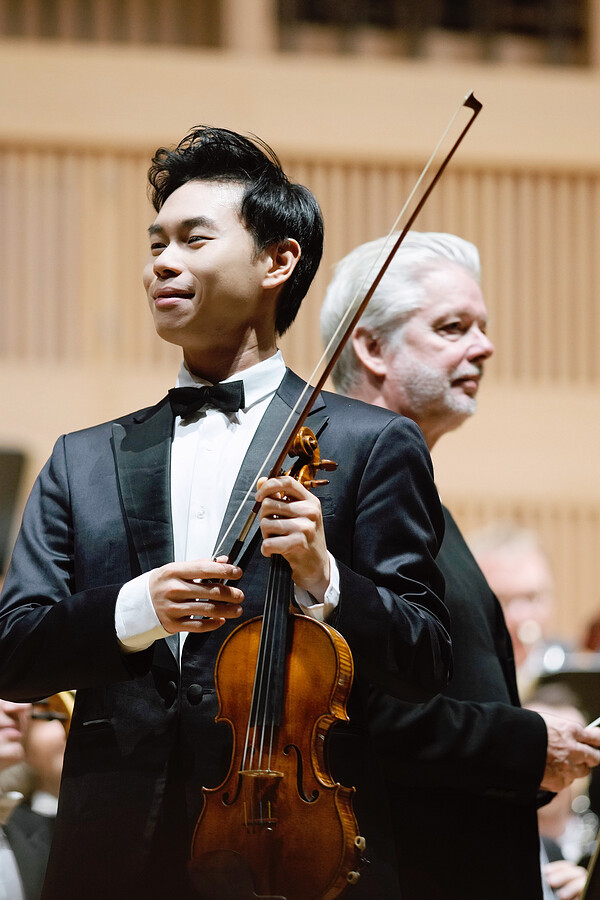 04 November 2022
English:
A full house at the Great Subscription, and not just because familiar things like Beethoven were on the program. This evening in the Brucknerhaus was exciting insofar as the two parts seemed like two faces of one and the same thing, like a Beethoven with a laughing and crying mask. The points of view may have something to do with the fact that not only was the excellently arranged Deutsches Symphonie-Orchester (DSO) Berlin on stage under the phenomenal Jukka-Pekka Saraste, but also that a completely different type of artist joined them in Timothy Chooi. The Canadian-American violinist focused on the lyrical side of Beethoven's Violin Concerto and was able to demonstrate his brilliant technique. In interaction with the DSO Berlin, which used significantly more vibrato here and sounded almost a little slowed down, a completely different Beethoven emerged than after the break with his 3rd symphony. Here the focus was on a smooth reading, marked by infinite beauty of tone, rounding the edges even in the third movement and placing the main focus on the solo part and its interpreter.
German:
Das Deutsche Symphonie-Orchester Berlin begeisterte im Linzer Brucknerhaus
Ein volles Haus beim Großen Abonnement, und das nicht nur, weil mit Beethoven Bekanntes auf dem Programm stand. Dieser Abend im Brucknerhaus war insofern spannend, als die beiden Teile wie zwei Gesichter ein und derselben Sache wirkten, wie ein Beethoven mit lachender und weinender Maske. Die Sichtweisen mögen damit zu tun haben, dass nicht nur das bestens disponierte Deutsche Symphonie-Orchester (DSO) Berlin unter dem phänomenalen Jukka-Pekka Saraste auf der Bühne saß, sondern sich mit Timothy Chooi ein ganz anderer Künstlertyp dazugesellte. Der kanadisch-amerikanische Geiger legte den Fokus bei Beethovens Violinkonzert auf die lyrische Seite und konnte dabei seine fulminante Technik ausspielen. Im Zusammenspiel mit dem DSO Berlin, das hier wesentlich mehr Vibrato einsetzte und klanglich fast ein wenig gebremst wirkte, entstand ein ganz anderer Beethoven als nach der Pause bei dessen 3. Symphonie. Hier lag das Augenmerk auf einer glatten, von unendlicher Schönheit des Tons gekennzeichneten Lesart, die selbst im dritten Satz die Kanten abrundete und das Hauptaugenmerk auf den Solopart und seinen Interpreten legte.
https://24hoursworlds.com/international/284828