New Strad from Nippon Music Foundation, engagements in Europe, US, and Canada this summer 2022 for violinist Timothy Chooi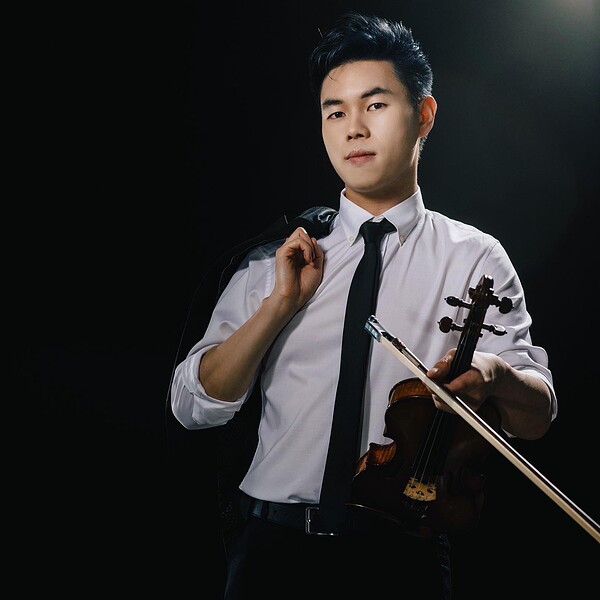 25 May 2022
New York, NY - Recipient of a 2022 Norman Benzaquen Career Advancement Grant at Juilliard's commencement this past Friday, violinist Timothy Chooi kicks off his summer season with the Deutsches Symphonie-Orchester Berlin playing the Sibelius Violin Concerto. He then travels to receive his "new" Stradivarius loaned to him by the Nippon Music Foundation. Loaned to Chooi in 2021, he was unable to collect the instrument because of Covid until now. The summer season offers numerous opportunities to hear him perform on the renowned instrument.
In addition to Germany, engagements take him to Florida and Massachusetts in the US, Canada, Austria and Switzerland.

TIMOTHY CHOOI
violin
Summer 2022 Engagements
(subject to change)
June 1 Deutsches Symphonie-Orchester Berlin
"Debut in Berlin" Berlin, Germany
Sibelius Violin Concerto
Timothy Chooi, violin
Felix Mildenberger, conductor
Venue: Berlin Philharmonie

June 3-7 Japan
Mr. Chooi picks up his new Stradivarius violin from the Nippon Music Foundation which he was awarded in 2021. For more details please visit
https://www.nmf.or.jp/english/news/2020/12/post_401.html

June 23 Community Arts Program Summer Arts Series, Miami, Florida
Recital
Music of Mozart, Szymanowski, Prokofiev, and Ravel!
Timothy Chooi, violin
Jinhee Park, piano

July 7 Opening Concert of the Tiroler Festspiele Erl, Austria
Korngold Violin Concerto
Timothy Chooi, violin
Eric Nielsen, conductor
Orchestra and Choir of the Tiroler Festspiele Erl

July 15 Recital, Orford Musique, Orford, Canada
Timothy Chooi, violin
Carlos Avila, piano
Venue: Orford Arts Centre

July 21 Morningside Music Bridge, Boston, Massachusetts
Artist In Residence Chamber Music Concert
Music by Chopin, Prokofiev, Zarebski
Timothy Chooi, violin
musicians of the Berlin Philharmoniker
(Daniel Stabrawa, violin; Ori Kam, viola;
Maciej Kułakowski, cello; Krzysztof Jablonski, piano)
Venue: Jordan Hall, Boston, MA

July 28 Debut Recital in Verbier Festival, Verbier, Switzerland
Prokofiev, Violin Sonata No. 2
Chen Gang, Sunshine on Tashkurgan
and works by Kreisler, Ravel and Szymanowski
Timothy Chooi, violin
Julien Quentin, piano
Venue: Eglise de Verbier
Aug 6-7 Debut Recital, Rheingau Musikfestspiele, Germany
Timothy Chooi, violin
Martin James Bartlett, piano
"With Mozart through the evening"
The Mozart Night is one of the most traditional event formats of the Rheingau Music Festival - and one of the most popular. The concept: Serenades, solo concerts or symphonies in the cloister frame chamber music in different rooms of the grandiose monastery complex. The audience chooses where they want to listen to the music. Mozart's music then accompanies you through the evening and through the architecture.
Aug 17 Metropolitan Monastery of Hydra, Hydra Island, Greece
Tchaikovsky Violin Concerto

"...someone who makes music out of his own deep empathy for music, full of sensitivity in the discreet, full of luminosity and spirit, someone who succeeds in making the music speak" -Tiroler Tageszeitung

About Timothy Chooi
Powerful and finely nuanced interpretations, sumptuous sonorities, and a compelling stage presence are just a few of the hallmarks of internationally acclaimed violinist Timothy Chooi. A popular soloist and recitalist, he is sought after as much for his passionate performances as for his wide-ranging repertoire. Recent honors include: a 2022 Norman Benzaquen Career Advancement Grant from The Juilliard School; Second Prize, Belgium's world-renowned 2019 Queen Elisabeth Competition; First Prize, the 2018 Joseph Joachim International Violin Competition in German; and the First Prize, the 2018 Schadt Violin Competition in the USA, In 2018 Chooi also won the 'Prix Yves Paternot' of Switzerland's Verbier Festival, a prize which recognizes the most promising and accomplished musician of the annual Academy for young professional musicians, earning Chooi his future debut as a solo artist in the 2022 Verbier Festival.
Upcoming engagements include returns to the Deutsches Symphonie-Orchester Berlin, Belgian National Orchestra, Wiener Concert-Verein, Victoria Symphony Orchestra, Montreal Symphony Orchestra, and Jacksonville Symphony Orchestra and debuts with Rheingau Musik Festival, Royal Liverpool Philharmonic Orchestra, Mt. Fuji Shizuoka Symphony Orchestra, Japan Century Orchestra, Chubu Philharmonic Orchestra, and l'Orchestre symphonique de Québec.
Amongst his 2021-22 season engagements were performances with Symphony NH and the Evansville Philharmonic in the U.S., a Wiener Concert-Verein European tour with violinist Anne-Sophie Mutter, concerts with the Toronto Symphony Orchestra, Montreal Bach Festival, Ottawa Chamber Fest, and Magdeburgische Philharmonie (Germany).
Recent performances include The Belgian National Orchestra, Luxembourg Chamber Orchestra, and l'Orchestre Symphonique de Montréal; a live on-air recital on New York City's WQXR classical radio station; and recital tours of Belgium and the United States. In addition to having already performed with every major orchestra in his home country of Canada, Timothy Chooi has also played with the Brussels Philharmonic under Stéphane Denève, with Santa Barbara Symphony, Orchestre Philharmonique de Liége, Auckland Philharmonia Orchestra, and the Malaysian Philharmonic Orchestra. Chooi has also made an extensive recital tour with Jeunesses Musicales du Canada, appeared at the Ravinia Festival, and made his Carnegie Hall debut.
Mr. Chooi performs on the 1717 Windsor-Weinstein Stradivarius on a generous loan from the Canada Council for the Arts and is a recipient of the Nippon Music Foundation Rare Instrument Project from the Government of Japan. https://www.timothychooi.com
Read more about Mr. Chooi and his incredible following on social media here.